Curiosities about ants that you should know
Ants are very common almost anywhere in the world, there are approximately 12,000 species and some are truly unique; there are from flying to poisonous. These insects predominate mostly in tropical forests and fascinate by their dominance as predators, burrowers and herbivores.
At Sra Bigotes we want to teach you more about these incredible insects, that's why we bring you the most curious facts about ants.
1. THERE ARE MANY ON THE PLANET
It is estimated that there are about 1 million ants for every human , and they are found almost everywhere in the world, with the exception of Antarctica, the Arctic and a handful of islands. There is at least one native species of ant on every continent.
2. ANTS ARE PREHISTORIC
A study from Harvard and Florida State Universities found that ants appeared about 130 million years ago , during the Cretaceous period. They survived the extinction that killed the dinosaurs, as well as the ice age.
3. THE LARGEST ANT NEST IN THE WORLD
In the year 2000, a nest of Argentine ants ( Linepithema humile) was found , which, at that time, extended for more than 6,000 kilometers , from Italy to the Spanish Atlantic coast. This colony housed 33 populations of ants that had merged into a supercolony, with millions of nests and billions of workers.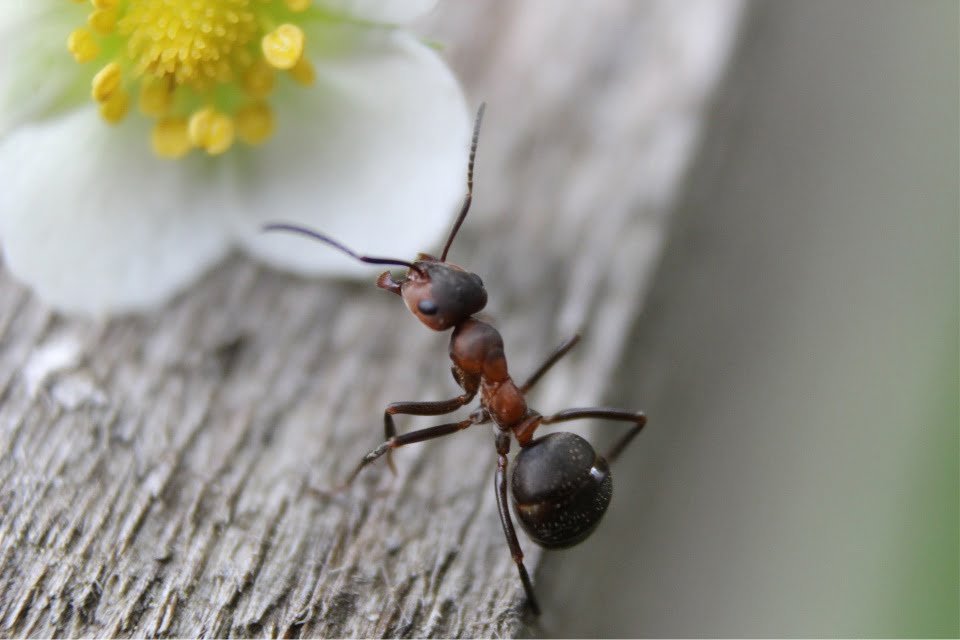 4. ANTS DO NOT HAVE EARS AND SOME DO NOT HAVE EYES.
Ants "hear" by feeling the vibrations of the ground through their legs, since they have the so-called subgenual organ, which is responsible for receiving seismic signals. They generally have good eyesight, but species without eyes, such as the driver ant, can communicate using their antennae. Additionally, ants can send chemical signals to their mates; reporting that danger is near, to attract a mate or lead to food sources.
5. THEY HAVE ENORMOUS STRENGTH
Based on weight ratio, ants are ridiculously strong, having the ability to carry between 10 and 50 times their own weight , depending on the species. The Asian weaver ant, for example, can lift 100 times its own body mass.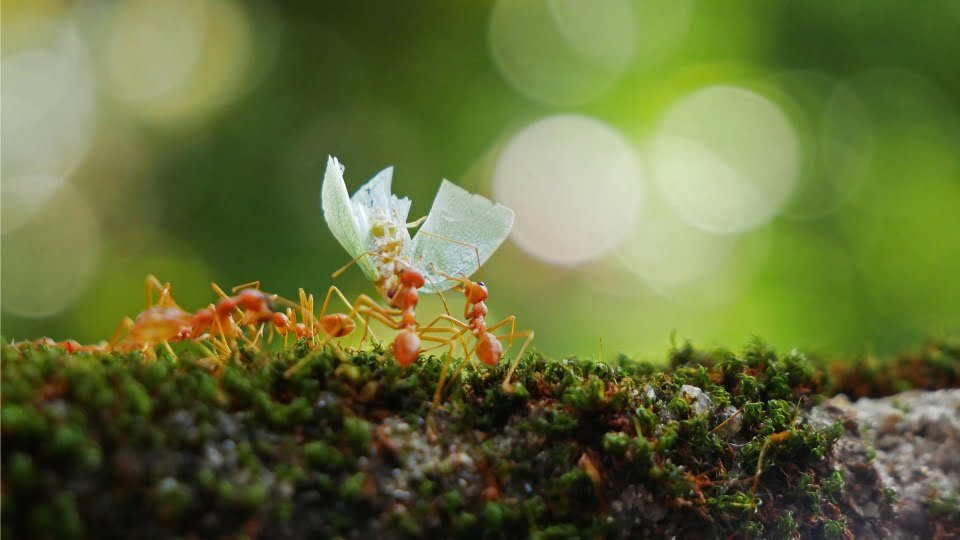 6. ANTS DON'T HAVE LUNGS.
To breathe, oxygen enters through tiny holes , called spiracles, which are connected to a network of tubes, known as the tracheal system , that carries oxygen to the cells in your body. Carbon dioxide exits through the same holes.
7. THEY ARE SLAVERS
Some species of  ants are slavers ; they invade neighboring ant colonies and force them to work for them, replacing the queen of that nest with one of their own. This process is known as "slave raiding." For their part, after the assault, the slave ants feed their hosts and defend the nest from the attack of other insects. Even if the colony moves to another location, the slaves move their slavers, one by one, to the new nest.
8. THEY CAN TURN INTO ZOMBIES
There is a species of fungus, called  ophiocordyceps unilateralis , that takes over the bodies of ants. This fungus consumes the soft tissue and induces the ant to abandon its colony. Then the ant looks for a leaf, bites it and dies there. A few days later, the fungus releases spores to infect other ants. Some species of ants have learned to recognize the infected and carry them away to protect the rest of the colony.
9. THEY HAVE TWO STOMACHS
Yes, as you read it, ants have two stomachs . This functionality is what allows the colony to work efficiently, because these insects, in addition to having a normal stomach, have a second one that they use to store food to share with other ants. This latter process is known as trophallaxis . Here is a video showing this process:
10. THEY CAN LIVE FOR DECADES
Ants are among the longest living insects in the world; unlike other species that live for only days or even hours, the queen ant of the species Pogonomyrmex Owyheei can live up to 30 years .
11. MALES DIE AFTER MATING
In essence, a male ant's only job is to reproduce, which is quickly over as they usually die shortly after mating. Despite the short life expectancy of a male ant, his sperm can live for even years .
12. THE BULLET ANT HAS ONE OF THE MOST PAINFUL STINGS IN THE WORLD.
Entomologist Justin Schmidt recorded his own experience with venomous bites, where he explains and classifies the pain caused by insect venom. Schmidt 's list describes the sting of the bullet ant ( Paraponera clavata ) as follows:
«Pure, intense, brilliant pain. Like walking on burning coal with a 3-inch nail embedded in the heel."

Justin Schmidt
Below we leave a video, for educational purposes, where it shows the sting of the bullet ant in an environment controlled by professionals.
13. THEY HOLD THE RECORD FOR THE FASTEST MOVEMENT IN THE ANIMAL KINGDOM.
The trap jaw ant ( Odontomachus bauri ) closes its jaws at speeds between 126 and 230 kilometers per hour with incredible power, due to a spring effect. They use this powerful weapon to kill prey or injure predators.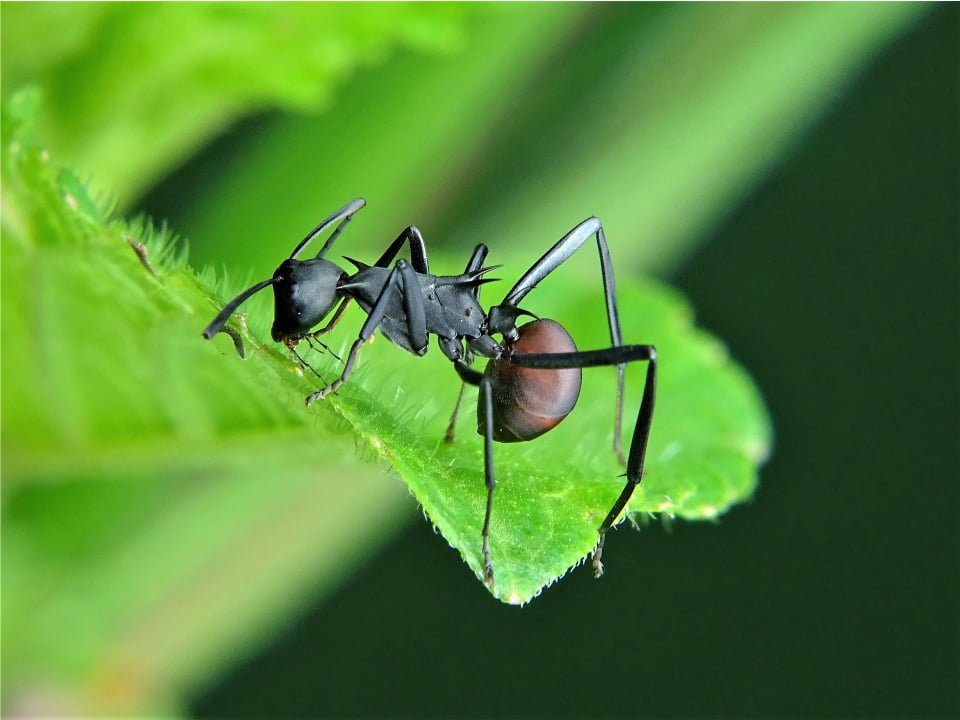 15. ANTS HELP THE ENVIRONMENT AND HUMANS
Although in some cases ants are considered pests, they bring many benefits to humanity, as they are also used in pest management , seed dispersal , and increase soil quality and nutrients . Even ants can also be beneficial in the field of health, since they have been the focus of some studies on the fight against antibiotic resistance.
To conclude, we invite you that the next time you come across an ant, remember how amazing and important they are and be kind to these fascinating insects.
Here we share a gallery with photos of ants: